Family Firm Yields to Family Farm in Tree Season
NC Lawyer Magazine
November/December 2006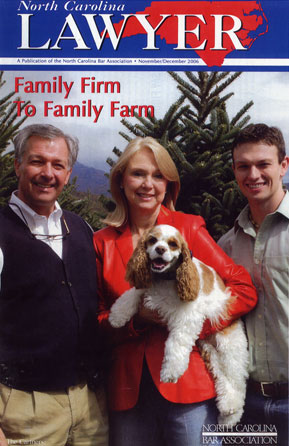 Ten months out of the year, the law offices of David & Ginny Cartner generally resemble most general practice firms, in Asheville or anywhere else for that matter.
Residential and commercial real estate transactions generate the bulk of the workload for Cartner & Cartner, followed by matters pertaining to family law, estate law, business law and civil litigation.
Then October rolls around, the leaves begin to change, the mountain air cools quickly, and David Cartner puts away his suits and ties and heads home to Avery County, where his father has operated the family business for the better part of 50 years.
It's time to harvest the Christmas trees, one of which annually graces the Hunter Galleria of the N.C. Bar Center in Cary.
Sam Cartner started the Cartner Christmas Tree Farm in 1959, four years after he spearheaded the establishment of the N.C. Christmas Tree Growers Association. A county agriculture agent with a degree from N.C. State University, the senior Cartner played a leading role in creating what today is a major industry along the Christmas tree corridor of Avery, Ashe, Alleghany and Watauga counties.
"Dad started the Fraser Fir industry in North Carolina," Cartner said. "He convinced the farmers to make the switch from road crops to Christmas trees. There were five growers in the Blue Ridge when he started; now me must have a thousand."
David William Cartner wanted no part of it, at least not right away. The jury's still out on their son, David Wheatley Cartner, a third-year law student at Campbell University who recently interned with the NCBA Office of Governmental Affairs.
"I had no interest in it." said the senior David Cartner, a 1970 graduate of the University of North Carolina who was next on the waiting list at the Wake Forest University School of Law when he opted to enter the South Texas College of Law at the University of Houston.
The move proved fortuitous in more ways than one, for not only did he earn his law degree in 1980, he also met and married his wife and future law partner there. Virginia Cartner, a Houston native who earned bachelor's degrees at the University of Texas at Austin and the University of Houston, obtained her law degree from South Texas College of Law in 1983.
It would be quite some time before their legal careers merged. David Cartner practiced civil and criminal litigation in Houston and served as an assistant district attorney in east Texas while Ginny practiced law in East Texas and served as coordinator and associate professor of the legal assistant's program at east Texas Baptist University.
Then, in 1990, The North Carolina mountains called David Cartner home.
"I pulled out the map and drew a circle around Newland, marking a 100-mile radius," Cartner said, "and we chose Asheville." The move would enable him to be closer to his parents, Sam and Margaret, and become an active participant in the Christmas tree business.
Their practices remained separate for another decade. David started out in practice with Devere Lentz and Bruce Elmore Sr. before striking out on his own in 1992. Ginny became intensely involved in cultural and educational endeavors and chaired the paralegal program at Cecils College. Then, in 2000, Cartner & Cartner was formed.
"Ginny runs the law office," says Cartner when asked how he manages to break away for three weeks of cutting and three weeks of shipping that begins around the first of November. "It is a struggle, especially during the three weeks of shipping."
David Cartner's knowledge of the Christmas tree industry and the family's trademark registered Blue Ridge Fraser Firs of North Carolina belie his full-time occupation. He seems right at home navigating his sport utility vehicle along the inclines of Spanish Oak Mountain, discussing the planting process and pointing out the tagged trees that have been marked for harvest and sale this year.
It's only when he discusses in detail the use of documented guest-workers in harvesting and shipping the trees that his legal training is apparent.
"We have 350 planted acres," Cartner said, "and we ship around 30,000 trees every year, all across the country." THey also provide "choose and cut" for individuals such as NCBA Executive Director Allan Head who prefer to procure their trees the old-fashioned way.
"I did inherit my father's love of business," Cartner said. "I work with sales throughout the year; then it's time for the harvest. We work the same weeks every year, seven days a week, 12 hours a day. It's a grind."
But don't let David Cartner fool you. He wouldn't have it any other way.
https://carolinafraserfir.com/wp-content/uploads/2013/04/nc_lawyer_cover450.jpg
446
289
Scott Carpenter
https://carolinafraserfir.com/wp-content/uploads/2020/10/Cartners-Christmas-Trees-logo.png
Scott Carpenter
2006-11-24 15:56:56
2019-07-23 17:03:16
Family Firm Yields to Family Farm in Tree Season