Marriage Proposal at Tree Farm
by Heather Faulkner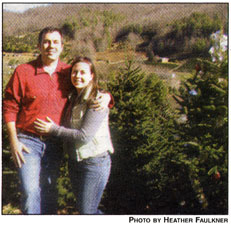 It's not every day that a marriage proposal happens at a Christmas tree farm. But for one couple from Gastonia that is exactly what happened last Friday.
It all began when John Wilson and girlfriend Emily Nivens thought it would be nice to start a family tradition of picking out the family Christmas tree the day after Thanksgiving.
"We wanted to begin a tradition that would carry through the years and I thought what better way to propose than when we pick out our Christmas tree," Wilson said.
To create a new tradition and have the perfect place to propose, Wilson scoped out different spots in Avery County and decided that the Cartner Christmas Tree Farm was the perfect place.
Of course employees at the Cartner Christmas Tree Farm were all too happy to help Wilson pull off the perfect proposal.
"We've never before had anyone ask if they could propose here and we thought it was the most romantic thing – we jumped at the opportunity to help," said Agnes Cartner.
To make the day more special, Friday was also the couple's two-year anniversary.
To create the perfect proposal, the Cartners decorated a tree for the couple and Wilson bought roses and a bottle of champagne to go along with it.
On what proved to be a beautiful Friday morning, the couple began their hunting for that one perfect Christmas tree. After all their hunting, they found their perfect tree at the top of one of the fields.
"He did such a great job with this and he didn't even give me any hints. It was perfect," Nivens said.
Of course Nivens said yes to the proposal and said she believes they have created a perfect family tradition.
"It looks like we will have to come back here every year to pick out our Christmas Tree," Nivens said.
November 24 will be a day the couple remember forever.
"Dear Mr. and Mrs. Cartner,

I don't know if you remember us. We got engaged on your Christmas Tree Farm over the Thanksgiving holidays. We just want to say thank you again for your hospitality. You have a wonderful family. You all made the occasion so special for us. We will always hold your farm in a special place in our hearts. We plan on buying our Christmas trees from you for years to come. Please pass our sincere appreciation on to your family (especially Little Margaret!). Thank you again for your kindness. We will see you next Christmas."

— Emily Nivens and Jon Wilson
https://carolinafraserfir.com/wp-content/uploads/2013/04/avery_marriage_prop06.jpg
225
231
Scott Carpenter
https://carolinafraserfir.com/wp-content/uploads/2020/10/Cartners-Christmas-Trees-logo.png
Scott Carpenter
1999-12-24 16:15:20
2019-07-23 16:39:06
Marriage Proposal at Tree Farm